INTRODUCTION
China International Glass Industrial Technical Exhibition (China Glass), established in 1986, organized by the Chinese Ceramic Society, held alternatively in Beijing and Shanghai once a year, is the largest professional exhibition in the glass industry within the Asia-Pacific region.With cultivation and development in the past more than 30 years, China Glass is famous in the world and is with full independent intellectualproperty rights. It is the most commercially valuable exhibition in China's glass industry, and a platform for technology exchange and business negotiations. China Glass is not only an important basis referred by international consulting agencies for evaluating the development of glass market, but also becomes the barometer of the global glass industry.
REVIEW 2019
On May 25, the 30th China International Glass Industrial Technical Exhibition (China Glass 2019), organized by the Chinese Ceramic Society and contracted by Beijing Zhonggui Exhibition Co., Ltd., was brought to a successful conclusion. 905 manufacturers from 28 countries and regions participated in this exhibition, including 665 domestic manufacturers and 240 foreign manufacturers. Foreign industry organizations including the Mechanical Engineering Industry Association (VDMA), Italian Glass Processing Machinery and Accessory Supplier's Association (GIMAV) and Dame Associates, Inc. organized their member companies to participate in China Glass 2019 in the form of nation pavilion from Germany, Italy and the USA. China Glass 2019 attracted 34329 visitors from 66 countries during the four days event, including 30279 domestic visitors and 4050 foreign visitors.
CHINA GLASS 2020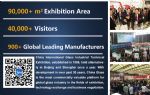 China Glass 2020 will be held at Shanghai New International Expo Centre (SNIEC), including 7 indoor and 3 outdoor exhibition halls. Various subjects will be displayed and allocated among the 10 exhibition halls: E1 for international brands, E2 for glass production, E3 for tempering furnace and refractory materials, E4 – E7 for deep processing equipment and domestic glass, outdoor exhibition halls for raw and auxiliary materials. Total exhibition area will exceed 90,000 square meters. It is expected to attract approximately more than 900 enterprises and more than 40,000 professional visitors in the glass industry.