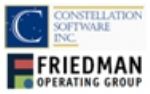 Constellation Software Inc. ("Constellation")(TSX:CSU) announced today that it has completed the purchase of
Albat+Wirsam Software GmbH ("A+W")
, acting through its Friedman Operating Group ("Friedman"). The agreement to purchase A+W was subject to customary closing conditions including a competition review by the German Federal Cartel Office, all of which have been satisfied.
Dr. Uwe Schmid, CEO of A+W: "We are glad that all formal hurdles have been overcome and the closing could be completed today. Together with the whole A+W team, I am looking forward to continuing the steady growth of A+W as marketleader in software for glass and windows in partnership with Friedman and Constel-lation!"
A+W (www.a-w.de)
is the global market leader in software for the flat glass industry. Headquartered in Lin-den, Germany, A+W develops and markets ERP, production planning and scheduling, and optimization soft-ware solutions for the glass, window, door, and curtain-wall industries.
As a result of the purchase, the A+W business will become part of Constellation's Friedman Operating Group. A+W will operate as an independent division of Friedman, and will continue to develop, enhance, and market their flat glass and fenestration industry software solutions world-wide.
About Constellation Software
Constellation´s common shares are listed on the Toronto Stock Exchange under the symbol "CSU". Constella-tion Software is an international provider of market leading software and services to a number of industries across both the public and private sectors. Constellation acquires, manages and builds vertical market soft-ware businesses that provide mission-critical software solutions.
About Friedman Corporation
Friedman Corporation is headquartered in Deerfield, IL and is a wholly-owned subsidiary of Constellation Software. Friedman Corporation specializes in complete ERP solutions for manufacturers and distributors of "make to order" and "engineer to order" products in the building products, capital equipment, and automotive sectors. The Friedman Operating group also has a complementary portfolio of software offerings for transportation management, material optimization, supply-chain management, multi-channel merchandising and direct-to-consumer distribution.