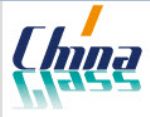 Organized by the Chinese Ceramic Society and operated by Beijing Zhonggui Exhibition Co., Ltd., the 27th China International Glass Industrial Technical Exhibition (China Glass 2016) will be staged at Shanghai New International Expo Centre on April 11-14, 2016. This event occupies 7 exhibition halls of the Expo Centre, covering an area of over 80,000 sqm. This glass show attrcts 886 renowned companies from the global glass communities.
More than 20,000 visitors from 91 countries
886 Exhibitors From 31 countries
3 national pavilions from Germany Italy and the US.
A dozen of technical seminars and promotion meetings

Associated with the exhibition there are interesting workshops and technical seminars closely related to current hot topics:
Dates Topic
April 11 13:00-14:30 Glaston Press Meeting 2016
April 11 14:30-16:00 New process of high precision and personalized fine art reproduction for glass or ceramic。
April 11 13:00-16:00
1)R&D of Large Area Sputtering Coater Equipment and Key Technology.
2)Industrialization of High Performance Thin Film Solar Cell Technology and its Application.
3) The Application of Robot and Vision Inspection Technology in Processing Line.
4)Discussion on Energy Saving Technology of Protective Gas Preparation System.
April 12 9:00-10:30 Nexelia for Melting-Heat Oxy-Combustion.
April 12 10:30-12:00 Guangzhou Kingtau Glaze Glass Ink-jet Machine2016-New Product Release Conference
April 12 9:00-10:30 New Development of Refractory Materials for Glass Furnace
April 12 10:30-12:00 Vertiflow Application in NNPB Process
April 12 13:00-14:30 New Breakthrough in Vacuum Insulated Glass
April 12 14:30-16:00 Kanthal Heating System: Flat Glass is in our DNA
April 12 14:00-17:00 The National Standard GB/T 32020-2015"Polyvinylbutyral Interlayer for Laminated Glass" Application Notes.
April 12 9:00-10:30 Table Ware Production at SCHOTT ZWIESEL with the Machinery from iPROTec

Venue, Layout and Traffic Map
The 27th China International Glass Industrial Technical Exhibition will take place in Shanghai New International Expo Centre (hereinafter referred to as SNIEC) on April 11-14, 2016. SNIEC is located at No. 2345 Long Yang Road, the Pudong New Area of Shanghai. You may take Subway Line No. 2 or 7 to get to SNIEC. It is only a 25-minute ride on taxi from the Pudong International Airport to SNIEC.