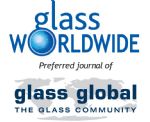 With 37 articles including an extensive series of exclusive interviews with key industry figureheads, the November/December issue is available now of Glass Worldwide, preferred journal of Glass Global.
In this issue, Bettina Heuter describes Glass Global's online glass industry research and glass factory database. Other highlights include a detailed glasstec 2018 review, regional focuses on Eastern Europe, Germany and India, a diverse series of technical articles and an expanded news section, this issue features the following broad cross-section of content to assist with all areas of production and processing:
FOCUS INDIA:
La Opala: Sushil Jhunjhunwala exclusively announces ambitious plans for a new greenfield plant.
Market overview: Architectural processed glass report.
HNG: Sanjay Somany exclusively describes the company's move away from the float sector to focus on core container glass activities.
Market overview: Report on the Indian refractories industry for glassmaking.
FOCUS GERMANY:
BV Glas: Market report highlighting the recent performances of the German flat, packaging, fibre and specialty glass sectors.
Supplier Focus: Eurotherm Germany.
FOCUS EASTERN EUROPE:
Russia: Flat glass market report, plus a spotlight on Guardian Steklo's investment in a mirror production system.
Moldova: Hollow glass production report.
Bulgaria: Focus on recent and future investment opportunities in the flat and hollow sectors.
PERSONALITY PROFILE:
SGD Pharma: Laurent Zuber spoke to Glass Worldwide about his roles in the management of SGD and FEVE's Glass Flaconnage Board.
FACTORY SPOTLIGHTS:
Phoenicia: Focus on the history and present day activities of Israel's sole flat glass producer.
Verallia Italia: Exclusive interview with Marco Ravasi, general manager, about the company's flexible production capabilities and planned investment.
OPINION:
Renowned industry consultant Phil Ross outlines best practices and procedures required to make 'best in class'.
SPOTLIGHTS:
Phoenix Award: Oliver Wiegand was presented with the 2018 Glass Person of the Year Award at a lavish banquet in October. Glass Worldwide was there.
O-I : EXPRESSIONS: Owens-Illinois detail the recently launched innovation for design agencies, packaging professionals and all food and beverage marketers.
TECHNOLOGY:
Technical articles covering decoration, inspection, melting, process control, processing, quality control and raw materials.
SUPPLIER FOCUSES:
The latest activities of FAMA, Intermolde, Penico and XPAR.
EVENTS:

40 page glasstec 2018 review, extensive coverage of the 42nd ASEAN Glass Conference and Chile Glass 2018, plus a comprehensively updated 2019 events calendar.
To download free selected articles and order the full paper and digital issues, visit www.glassworldwide.co.uk